'Always & Forever' bouquet launched in aid of Craig's Heartstrong Foundation
Tue, 28 May 2019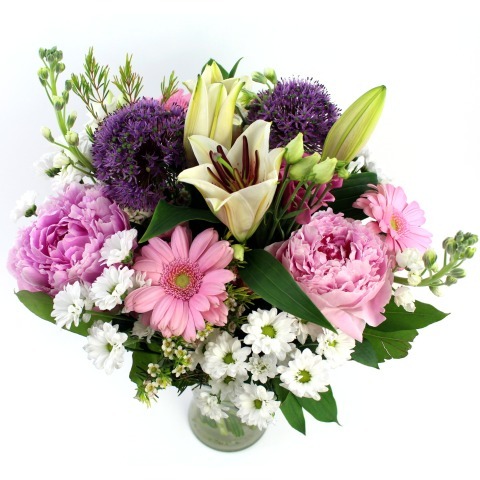 Robinson's have launched a special 'Always & Forever' to help raise funds for Craig's Heartstrong Foundation. The bouquet will be on sale throughout June at Robinson's The Terrace and Cooil Road, and online at Signature Flowers. £5 from each bouquet sold will go directly to the charity.
Mark Hotchkiss from the Floristry Centre comments, "The bouquet has been designed by our Head Florist, Denise Beevers, with a range of beautiful seasonal flowers, including peonies, stocks, allium and oriental lilies. We have been honoured to create this bouquet for Craig's Heartstrong Foundation, a life-saving charity which has made a difference to countless people".
Craig's Heartstrong Foundation was set up by the Lunt family in memory of their son Craig, who died from an undiagnosed heart defect in 2005, at the age of 25. Craig had Long QT Syndrome, an electrical heart disorder, which is one of many conditions that can cause unexplained sudden death syndrome.
The Foundation is dedicated to raising funds to enable heart screening for men and women between 14 and 35. Screening allows the detection of possible symptoms of Hypertropic and Dilated Cardiomyopathy, therefore preventing Sudden Death Syndrome.
Craig's mother Paula helped to put together the first bouquet. She says, "We're so grateful for this support from Robinson's, and for all the support we've received over the years. It allows us to prevent local young people suffering from undiagnosed heart problems, and also helps with ongoing treatment.
"Each screening costs £22,000, which is provided solely by Craig's Heartstrong Foundation. 8.5 thousand young people have been screened since 2006. There are two screenings per year; the next one is in September".
Craig's Heartstrong Foundation has partnered with UK charity Cardiac Risk in the Young (CRY) in order to bring to the island the equipment and staff required for heart screening events. The charity has also issued defibrillator machines – which greatly increase the chances of survival following cardiac arrest - to schools, offices and sports clubs, and is now providing public access defibrillators across the island
To order this beautiful bouquet please click here